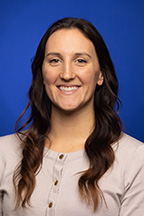 Brooke Callaghan, M.P.H.
Evaluation Program Manager
As an evaluation program manager, Brooke manages a portfolio of evaluation projects for MFF's statewide network of SNAP-Ed program grantees. Brooke is interested in community nutrition and physical activity and approaches her work with a health equity lens.
In her role, she is enthusiastic about supporting grantees with their SNAP-Ed policy, systems, and environmental change initiatives that impact access to affordable healthy food and safe opportunities to be active.
Brooke has a master's degree in public health with an emphasis in epidemiology and an undergraduate degree in environmental science from the University of Michigan. She has a diverse background in evaluation and research, including international field experience in Santiago, Chile. She has also served as a community leader working to improve healthy food access, most recently as a farmers market manager.
Brooke competed on the Division 1 Track & Field Team University of Michigan, and continues to stay active as a life-long athlete. Outside of work, she enjoys working out at her local CrossFit gym, trying out new recipes, and exploring West Michigan with her Golden Retriever