The Governor's Fitness Awards
Presented by the Governor's Council on Physical Fitness, Health and Sports and the Michigan Fitness Foundation, the Governor's Fitness Awards (GFA) recognize communities, organizations, and individuals who inspire healthy choices. Nominated by Michiganders, the GFA finalists are then selected by a panel of judges and announced each spring.
This year, GFA finalists were recognized on April 25, 2019, at the morning legislative reception at the Michigan State Capitol, then at the evening gala at MGM Grand Detroit, where the winners in each category were revealed.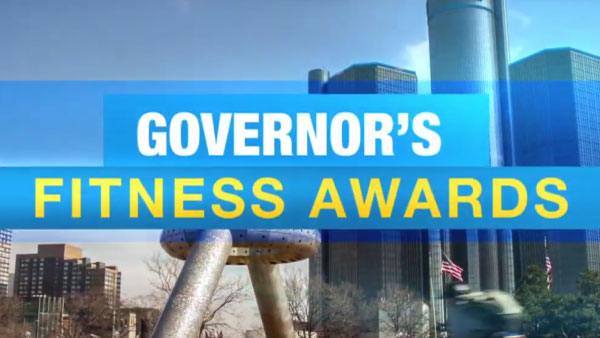 Vern Seefeldt Lifetime Achievement Award
Appointed as the first chairman of the Governor's Council on Physical Fitness Health and Sports in 1992 by Governor Engler, Dr. Seefeldt' s avoidance of personal aggrandizement while working to promote the Council's service goals set the standard for the professionalism which has become the hallmark of the Council. Past recipients of this prestigious award include Al Kaline, Mike Ilitch, Gordie Howe, and John Dingell. This award is presented to the person that dedicates their life to serving, volunteering, honoring, partnering, and inspiring others through their profession.  
Accepting the Challenge Award
Charles T. Kuntzleman's impact on the arena of physical activity is known around the world. He has dedicated his life to teaching and advocating for quality physical education for all students, regardless of ability. His career includes Professor of Kinesiology at University of Michigan, National Program Director for the YMCA, and first chair of the Michigan Governor's Council on Physical Fitness, Health and Sports and the Michigan Fitness Foundation and celebrated author. Named after his book "They Accepted the Challenge" that recounts the stories of people who used exercise to prevail over a range of debilitations, the Charles T. Kuntzleman Accepting the Challenge award recognizes those who continue to overcome extraordinary challenges through exercise, discipline, and positivity – and who, in turn, serve as a role model for others.
Active Community Award
Imagine a community where people can walk or bike to work, to school, or to run errands. A place where families play together in parks and greenspaces and where neighbors wave to neighbors with a sense of connectedness and community pride. The Active Community Award is given to a community that creates this kind of vibrant, healthy environment.
Active Senior Award
The Active Senior award recognizes our most seasoned citizens, those who put fitness front and center in their lives, while encouraging others to join them.
Conquering Obesity Award
Individuals recognized in this category have made the tough decision to lead a healthier life in order to overcome a health issue. They have dedicated themselves to finding balance in nutrition and physical activity in their daily lives. They lead by example, encourage others to make positive changes to improve their health, and continue to honor their own commitment on a daily basis.
Director's Champion for Health Award
The Michigan Department of Health and Human Services Director's Champion for Health award acts to ignite and support positive community change, specifically encouraging physical activity and healthy eating across the lifespan. This champion works to develop programs, processes, messaging, and infrastructure in their community and shows how they have affected the lives and health outcomes in Michigan's most vulnerable populations.
Extraordinary Event or Organization Award
This award honors events and organizations who provide opportunities for Michiganders of all ages and skill levels to try different forms of activity, develop physical fitness skills, and gain a better understanding of health in a safe and welcoming environment. This honoree offers fun, safe, and innovative physical activity events or programs with no barriers for participation, creating a positive environment for all to pursue a physically active life.
Healthy Workplace Award
Every year, Michigan work sites large and small take that extra step, spend the extra dollars, to develop innovative concepts which help create a healthier workplace — and consequently helps their employees to be fit, healthy, and more productive. To honor such efforts, the Governor's Council on Physical Fitness, Health and Sports and the Michigan Fitness Foundation bestow the Healthy Workplace Award on organizations with outstanding programs that promote healthy living and create best practices for others throughout Michigan to emulate.