Michigan Farm to Family: CSA
Michigan Fitness Foundation presents Michigan Farm to Family: CSA, an innovative program that brings fresh food to Michigan families from local CSA farmers.
To join a CSA program, click here.
To find a CSA near you, click here.
To support our CSA program, click here.

For many families, access to fresh and healthy food is a challenge. By improving access to fresh produce, families facing food insecurity are now able to participate in their local Community Supported Agriculture (CSA) program through Michigan Farm to Family: CSA (MF2FCSA). Engaged in food systems work through statewide Supplemental Nutrition Assistance Program Education (SNAP-Ed) programming, this innovative Michigan Fitness Foundation (MFF) program makes it possible for families on tight budgets to purchase and consume more fresh fruits and vegetables and strengthen their local food systems.
In a typical CSA model, members make a financial investment and buy a "share" of the farm's production before each growing season. In return, they receive regular distributions of the farm's bounty throughout the season. Because the cost of CSA membership and advanced payment requirements can be prohibitive to families with limited resources, through MF2FCSA, families will pay a significantly reduced price, pay upon pick up, and are able to use their SNAP benefits to participate.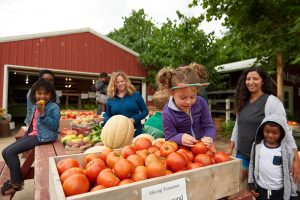 For example, if the CSA member share is $20 per box of fresh produce, participating families pay just $5 using their SNAP benefits and the program pays the remaining $15. Families will also receive tips to prepare, cook and store the produce they receive through MFF SNAP-Ed partner nutrition educators.
MF2FCSA is made possible through a $500,000 grant from the National Institute of Food and Agriculture (NIFA) and Gus Schumacher Nutrition Incentive Program (GusNIP). Along with MFF's SNAP-Ed team and partner nutrition educators, MFF seeks Michigan CSA farmers, non-profit community organizations, and grant match funding partners to create up to 17 partnerships in eight communities over the next four years to deliver the MF2FCSA program.
To learn more about this program and get involved, email MFF Program Manager Jane Whitacre(links a new email when clicked).
More:
Download our 2019 Michigan Farm to Family: CSA Pilot Program flyer (links to PDF in new window or right click to download)
Read our feature in Michigan Agriculture Magazine: Michigan Farm to Family Connects Consumers to Farm Fresh Food
Read our blog feature in Taste the Local Difference: localdifference.org/blog/farms-families-and-fresh-grown-food