Labor Day Bridge Run
Date: September 2, 2019 | Location: The Mackinac Bridge
For the running enthusiast and adventure seeker, there is no other experience like running one of the world's most beautiful bridges at sunrise.
This event provides the one and only opportunity to run the 4.3 miles across the Mackinac Bridge and provides picturesque views that rival any running event in the world. It has become a staple of the Labor Day weekend and is touted by past participants as an unforgettable, once-in-a-lifetime experience.
Participants meet at the Mackinaw City Recreation Center and are bussed across the bridge to St. Ignace for the start. The event is kicked off by the governor and lieutenant governor. Although the run is non-competitive, a time clock will be present at the finish line. All runners will receive a commemorative technical T-shirt, finisher's medal, and professional finish line photo with the Mighty Mac in the background.
The event is capped at 700 participants, so act early to reserve your spot!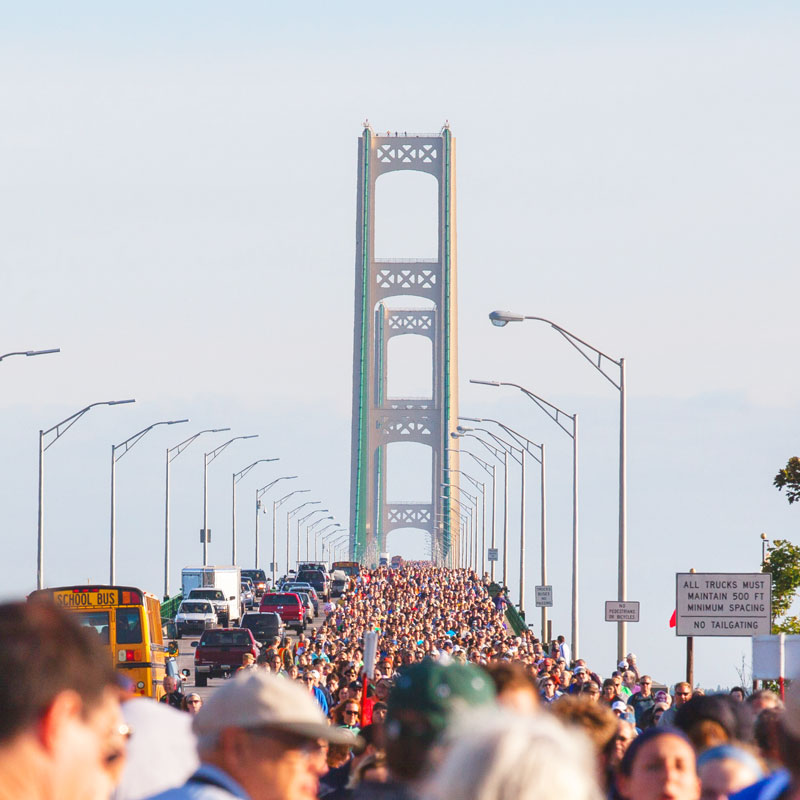 Rules
This is a running event only, runners must be able to complete each mile in 12-minute pace or less. If you expect to run slower than 12-minutes per mile and/or cannot run the entire 4.3 miles, you should not participate.
This is not a timed event and the course is not certified for distance.
The Labor Day Mackinac Bridge Walk begins shortly after the last wave of runners depart, to learn more about walking the Mackinac Bridge, visit  www.mackinacbridge.org.
Sponsorship Opportunities
Sponsorship opportunities are available for the Labor Day Bridge Run. To discuss sponsorship levels or receive more information, please contact us at .
Labor Day Community Walks
For those who choose a staycation over Labor Day weekend, we offer Labor Day Community Walk events on our event calendar to help promote community walks to give all Michiganders the opportunity to get out and be active.
If your community is interested in hosting a Labor Day Community Walk event, please email us at  for more information. Organizers of registered walks will receive free support materials to help make their Labor Day Community Walk a success.