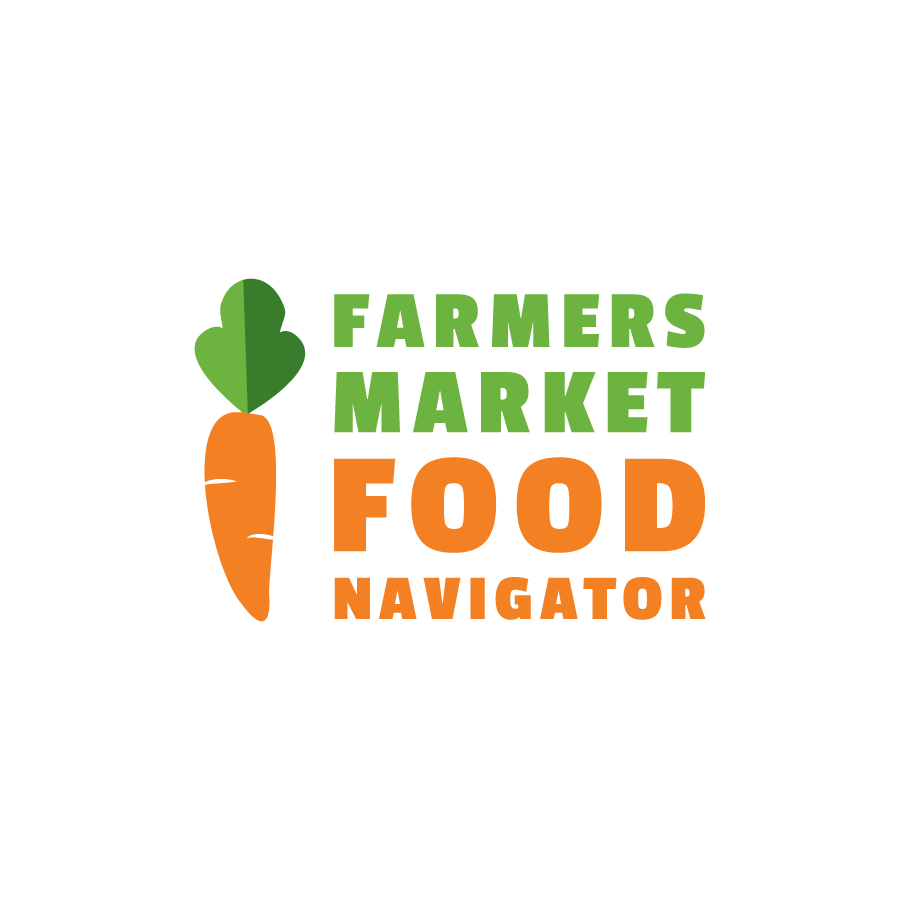 Engaging communities in the local food movement
Food Navigators affiliated with our grant programs work in farmers markets that accept food assistance benefits in underserved communities, helping shoppers plan healthy, affordable meals. For our current directory of Food Navigators, visit Eat Well in a SNAP.
Our Farmers Market Food Navigator program is an impactful addition to any local farmers market. Contact resources@michiganfitness.org to learn more.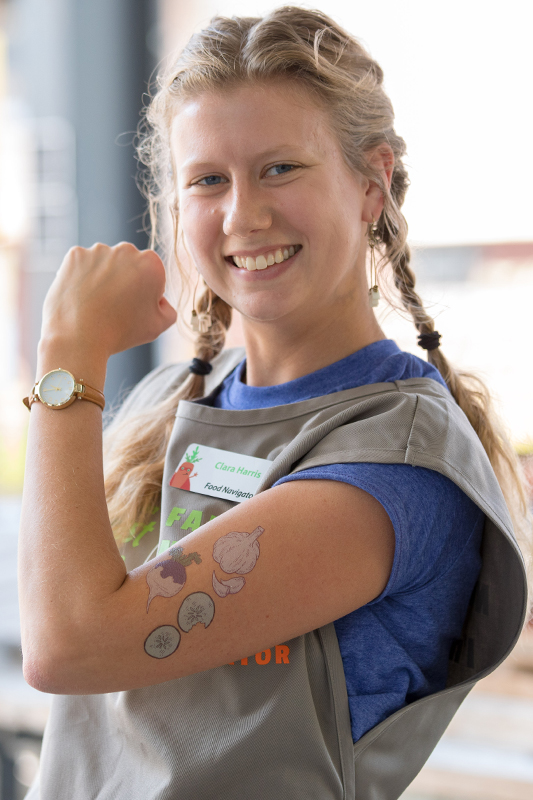 What do food
navigators do?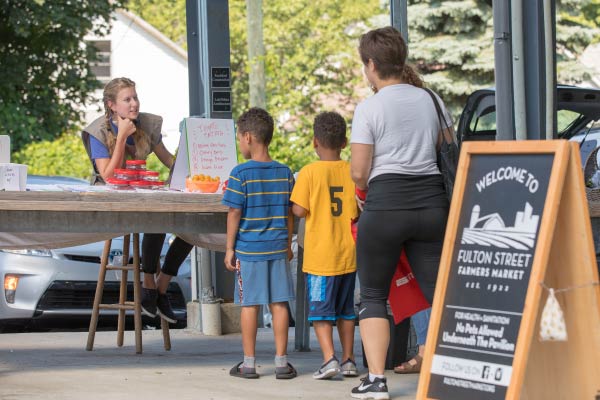 Provide resources and experiential nutrition education to shoppers at markets, including tastings and cooking demonstrations.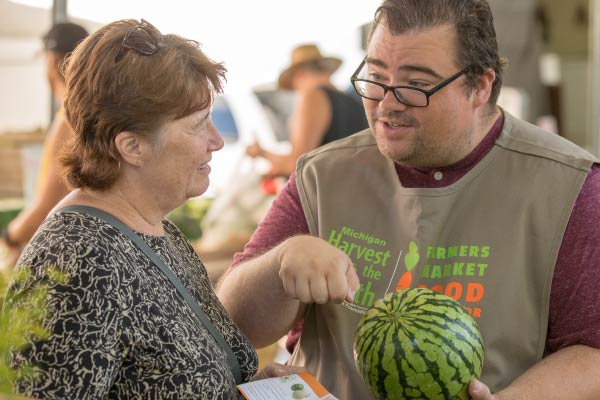 Assist shoppers in effectively using their food dollars at markets through tours that can include introductions to vendors and tips on selecting and storing produce.
Build awareness of farmers markets and the food assistance programs available at markets.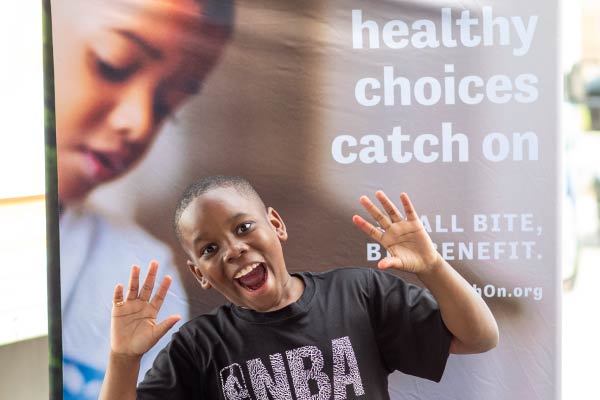 Support Lasting Improvements
Work with market managers and vendors to carry out policy, systems, and environmental change initiatives that improve access to affordable, healthy foods.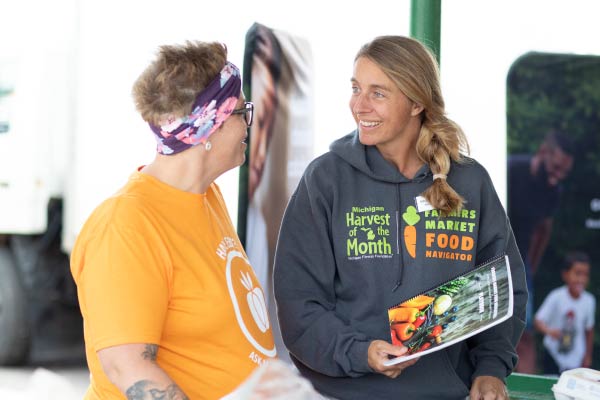 Why is this important work?
Farmers markets can increase access to fresh, healthy foods within a community and support a local food system. When farmers market vendors accept food assistance benefits, fresh produce is more affordable and allows families with tight food budgets to maximize their food dollars while eating a healthy diet.
The Farmers Market Food Navigator program addresses barriers that shoppers using food assistance at farmers markets might face, like building confidence in talking with vendors, selecting produce, and using new foods.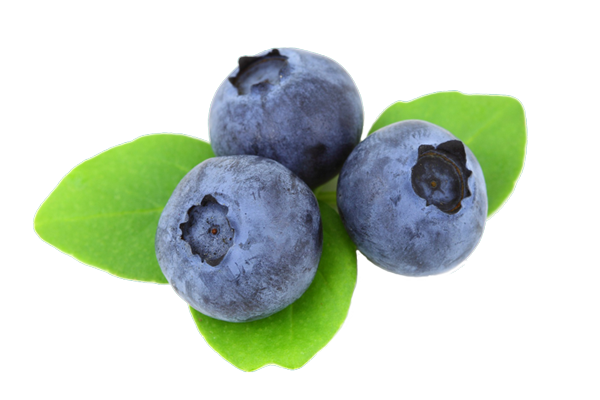 Food Navigators attend a one-day training and are provided a program kit of materials, including a comprehensive Playbook. The Playbook provides guidance on program components, inspiration for activities to have in farmers markets, and guidance on evaluation. The program is designed to provide enough structure to understand what outcomes can be expected while allowing for flexibility for local considerations.
What Stakeholders
Are Saying
83% of market managers and 59% of market vendors agreed food navigators helped increase fruit and vegetable sales at their market.
I enjoy watching people enjoy the program. It is a great program.
– Farmers Market Vendor
Our navigator brought new customers to the market through community outreach.
– Farmers Market Manager
29% of shoppers who interacted with food navigators over the course of the season reported eating vegetables more often than they did before.
Shoppers at farmers markets with food navigators were significantly more likely to be confident in using their food assistance benefits (p=.041) and talking to vendors (p=.025) than shoppers at comparison markets.
Enter your email address below and we'll keep you up to date on all the latest Food Navigator news!