FRESH COAST BEEF KABOBS
Serves 4 adults
Nutrition Information Per Serving: Calories 374, Carbohydrate 35g, Dietary Fiber 6g, Protein 29g, Total Fat 14g, Saturated Fat 5g, Cholesterol 77mg, Sodium 251mg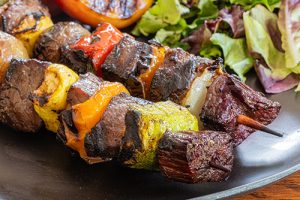 12 Wood or Metal 9-inch skewers
BBQ Grill
Food Safe Plastic Bag
Knife
Cutting board
Bowls for preparation
Microwave
Microwave safe dish
Spoon
Instant Read Thermometer
1 beef Sirloin Tip Steak, cut in 1-inch thick squares (about 1 pound)
1 medium sweet onion, cut into 3/4-inch wedges
1 small yellow squash, cut lengthwise in half then crosswise into 1 inch slices
1 small zucchini squash, cut lengthwise in half, then crosswise into 1 inch slices
3 small bell peppers, any combination of colors, cut into 1-inch pieces
1 pound medium red skin potatoes, cut into 1-inch pieces
12 medium mushrooms, stems removed
2 tablespoons water
2 tablespoons red wine vinegar
1 tablespoon Dijon mustard (optional)
1 tablespoon brown sugar
2 cloves garlic, minced or 1/2 teaspoon garlic powder
1 teaspoon Italian seasoning
2 teaspoons vegetable oil
1/2 teaspoon coarse grind black pepper
If using wood kabob sticks, soak in water for at least 10 minutes, flip after 5 minutes if not fully submerged.
Cut beef Sirloin Tip Steak into 1—inch square pieces.
Combine marinade ingredients in small bowl. Place beef and marinade in food-safe plastic bag; turn to coat. Close bag securely and marinate in refrigerator 4 hours or overnight, turning occasionally.
Wash and cut potatoes into 1-inch pieces. Place in microwave-safe dish; cover with vented plastic wrap. Microwave on HIGH 5 minutes or until just tender, stirring once. Cool slightly.
While potatoes are cooking, wash and prepare all remaining vegetables. Place in bowls.
Fire up the grill.
Remove wood skewers from water, if using.
Remove beef from marinade, discard marinade, place in bowl.
Alternately thread beef, onion, pepper, squash, beef, mushroom, potato, onion, etc., onto skewers, or invite everyone to build their own kabobs by mixing and matching their favorite vegetables with the sirloin tip steak pieces.
Place kabobs on grill over medium, ash-covered coals. Grill covered, turning every 3 to 4 minutes on each side or until desired doneness is reached.

To measure doneness for steaks 1/2 inch or thicker, insert an instant-read thermometer horizontally from the side, so that it penetrates the thickest part or the center of the sirloin.

For medium-rare cook 5 until the temperature reads 145°F.
For medium, cook until the temperature reads 160°F.
For well done, cook until the temperature reads 170°F.

Let rest for a few minutes before serving. For extra tender kabobs, let skewers rest for 3-5 minutes wrapped in foil before serving.
Wash hands with soap and water before cooking and always after touching raw meat.
Separate raw meat from other foods.
Wash all cutting boards, utensils, and dishes after touching raw meat.
Do not reuse marinades used on raw foods.
Wash all produce prior to use.
Refrigerate leftovers promptly