On Thursday, August 20, for the first time, the Governor's Fitness Awards were held as a virtual event.
"With the pandemic, we couldn't hold our gala and looked for a new way to present the awards to our fellow Michiganders," shared Amy Ghannam, President and CEO of Michigan Fitness Foundation. "By expanding the interviews filmed over the winter originally intended for the live event, we were able to recognize and share their extraordinary stories and shift to a virtual presentation to our YouTube channel."
Nominations from Michiganders began last fall, and earlier this year GFA finalists were selected by a panel of judges from across the state. The winners are:
Charles T. Kuntzleman Accepting the Challenge Award
Lottie Ferguson, Mount Morris
Active Community Award
City of Mackinac Island
Director's Champion of Health Award
Regina Hardy, Detroit
Extraordinary Organization Award
Project Healthy Schools – University of Michigan, Ann Arbor
Heath Star Award
Matt Laura, Jackson
Healthy Workplace Award
Large Workplace
Blue Cross Blue Shield of Michigan, Detroit
Medium Workplace
Bell's Brewery, Galesburg/Kalamazoo
Small Workplace
Upper Peninsula Health Plan (UPHP), Marquette
Outstanding Event Award
Meijer State Games of Michigan, Grand Rapids
Perennial Award
Fred Price, Livonia
Vern Seefeldt Lifetime Achievement Award
Dr. Kimberlydawn Wisdom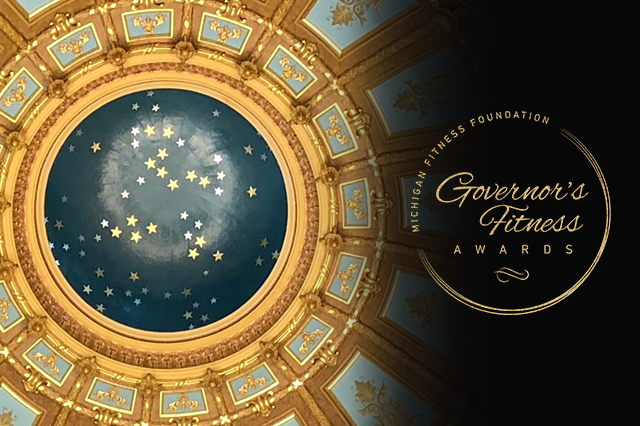 Presented by the Governor's Council on Physical Fitness, Health and Sports and the Michigan Fitness Foundation, the Governor's Fitness Awards recognize communities, organizations, and individuals who inspire people to eat healthy and move more where they live, work and play. Nominations for the 2021 Governor's Fitness Awards will open in the fall. For more information about the awards or how to nominate a person, community or organization, visit https://michiganfitness.org/gfa.