Governor's Fitness Awards finalists will be recognized with a special video premiere on the Michigan Fitness Foundation YouTube channel.
Due to the pandemic, the Governor's Fitness Awards (GFA) have been rescheduled as a virtual awards celebration on Thursday, August 20. The show will premiere at 8:00 p.m. on the Michigan Fitness Foundation YouTube channel.
Nominations from Michiganders began last fall, and earlier this year GFA finalists were selected by a panel of judges from across the state. The finalists are: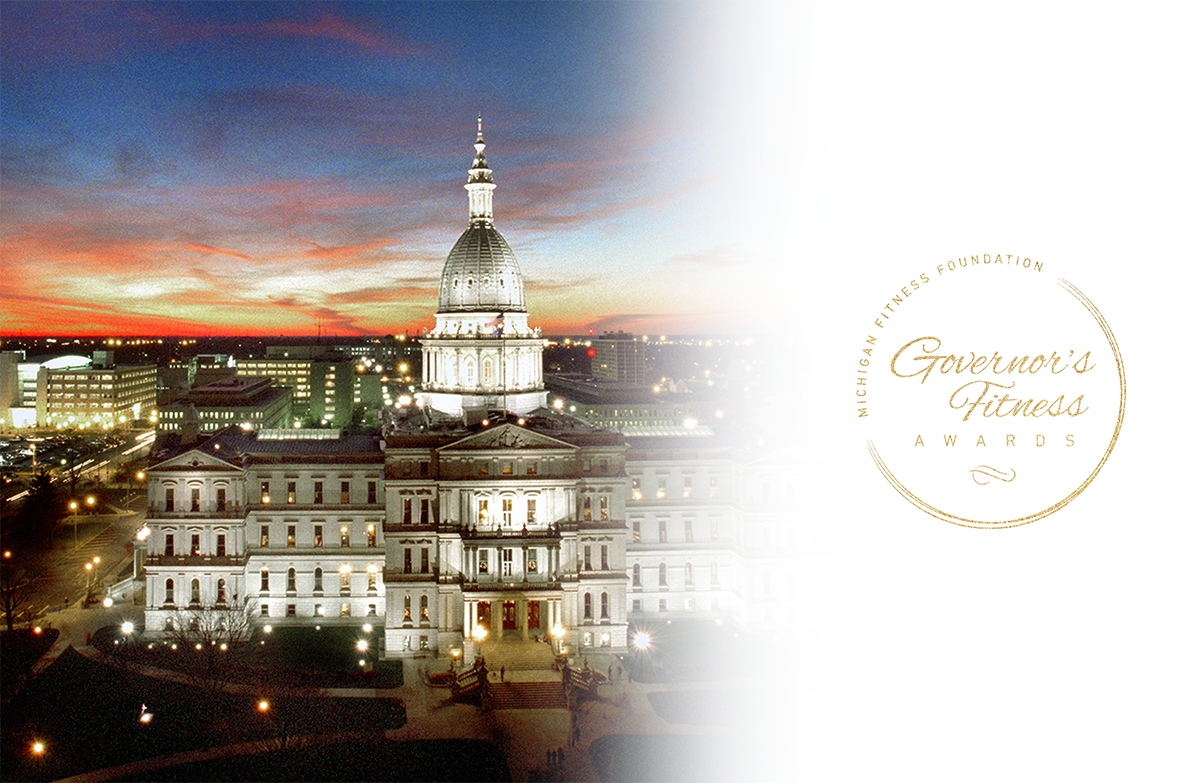 Charles T. Kuntzleman Accepting the Challenge Award
Caleb Conklin, Newaygo
Lottie Ferguson, Mount Morris
Jason Parks, Holland
Active Community Award
City of Kalamazoo
City of Mackinac Island
City of Traverse City
Director's Champion of Health Award
Regina Hardy, Detroit
JoAnn McCollum, Ypsilanti
Bob Wilson, Okemos
Extraordinary Organization Award
Operation Fit, Battle Creek
Project Healthy Schools – University of Michigan, Ann Arbor
TeamGUTS, Ferndale
Heath Star Award
Amy DiStefano, Ira
Tameka Kelly, Redford
Matt Laura, Jackson
Healthy Workplace Award
Large Workplace
Blue Cross Blue Shield of Michigan, Detroit
Lacks Enterprises, Inc, Kentwood
Spectrum Health Lakeland, St. Joseph
Medium Workplace
Bell's Brewery, Galesburg
Chem-Trend, Howell
Lansing Board of Water and Light, Lansing
Small Workplace
44North, Cadillac
Sturgis Fire and Police Departments, Sturgis
Upper Peninsula Health Plan (UPHP), Marquette
Outstanding Event Award
Greater Flint Olympian and CANUSA Games, Flint
Livonia Parkrun, Livonia
Meijer State Games of Michigan, Grand Rapids
Perennial Award
Brian and Dorie Barkey, Flint
Elizabeth Burt, Ann Arbor
Fred Price, Livonia
Vern Seefeldt Lifetime Achievement Award
"Each year, we look forward to introducing the GFA finalists to our fellow Michiganders," shares Amy Ghannam, President and CEO of Michigan Fitness Foundation. "By recognizing and sharing their extraordinary stories, they influence us all to have a renewed vigor to make healthier choices."
Presented by the Governor's Council on Physical Fitness, Health and Sports and the Michigan Fitness Foundation, the Governor's Fitness Awards recognize communities, organizations, and individuals who inspire people to eat healthy and move more where they live, work and play.