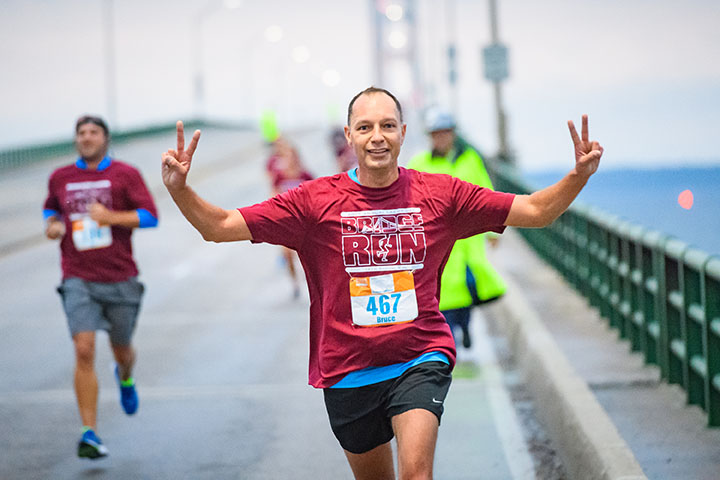 Lansing, Mich — Michigan Fitness Foundation's annual Labor Day Mackinac Bridge Run (Bridge Run) is the only running event on the Mackinac Bridge. Drawing runners from around the globe, the run takes place on Monday, September 5.
High above the Straits of Mackinac with views of the bridge towers over blue-green waters where Lake Michigan and Lake Huron converge, the vista is stunning. With Mackinac Island to the left and vast Great Lakes vistas to the right are revealed as the sun rises, washing the sky with glorious shades of orange. Runners can expect to be serenaded by the sounds of seagulls, ferry boat horns and waves crashing on the shoreline. This run is an engaging experience that delights the senses.
The region is also a premiere tourist destination hosting over one million visitors each year. It is known as a gathering place and features natural wonders, Great Lakes History with historic attractions like Mackinac Island, Fort Mackinac and Colonial Michilimackinac. There are lighthouses, museums, great shopping, nightly entertainment, and a variety of vacation packages with places to stay from rustic cabins to modern hotels.
In its eighteenth year, the 4.3-mile non-competitive run organized by Michigan Fitness Foundation, the Governor's Council on Physical Fitness, Health and Sports, and the Mackinac Bridge Authority.
"The Bridge Run has become an end of summer tradition for avid runners," shares Michigan Fitness Foundation CEO & President, Amy Ghannam. "We are grateful to our partners and sponsors for supporting the event as it provides participants with an unforgettable destination and bucket-list experience."
The event starts at 6:30 a.m., precedes the Labor Day Bridge Walk, and is limited to 700 participants. At a minimum, runners are expected to run at least a 12-minute mile and must be able to finish the entire 4.3 miles. It is important to note, this is not a timed event, and the course is not certified for distance. The Labor Day Bridge Walk starts immediately after the last wave of runners depart.
The Mackinac Bridge is an engineering masterpiece built to connect Michigan's Upper and Lower Peninsulas. Opened in 1957, the 26,372-foot-long (4.995 mi) bridge is the longest suspension bridge in the western hemisphere and the fifth longest suspension bridge in the world.
Registration is open through August 30, or until the race is full.
For more information and to register, visit https://michiganfitness.org/events/labor-day-bridge-run.