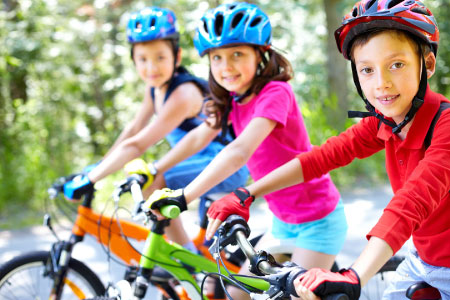 More than 175 schools in Michigan will join students around the country in observing the 7th Annual Bike to School Day on Wednesday, May 9th. Thousands of Michigan students, along with their parents, teachers, and community leaders, are expected to participate.
Wednesday's event is organized by the Michigan Fitness Foundation (MFF) and the Safe Routes to School (SRTS) program which works to create new, safe routes for children to travel to and from school and thus promote health, wellness, and physical activity.
"Bike to School Day is a unique opportunity for schools and communities to take time to promote active transportation as a way for students to get to school," said Katie Alexander, Director of SRTS. "Each year, these events have a positive and fun impact on the communities that host them."
Governor Snyder has officially recognized May 9th as Michigan's Bike to School Day this year, promoting the importance of physical activity. Bike to School Day reinforces the importance of safety and the development of lifelong physical activity habits in young people. Biking to and from school is an easy way to get the regular physical activity children need for good health.
As part of MFF, the Michigan SRTS team partners with the Michigan Department of Transportation (MDOT) to work with schools, families, and communities across the state to enhance active transportation through a variety of modes. "We are excited to partner with the Michigan Fitness Foundation to support Bike to School Day 2018," said MDOT Office of Economic Development Administrator Mike Kapp. "This event is a great opportunity to encourage healthy habits in children and promote the Safe Routes to School program."
MDOT's role is to administer the federally-legislated SRTS program, which was established by Congress in 2005. The program evolved in the Moving Ahead for Progress in the 21st Century Act of 2012 and continues under the Fixing America's Surface Transportation Act of 2015.
In addition to Bike to School Day, MFF implements other active living events such as All Children Exercise Simultaneously (ACES Day) in the spring and Walk to School Day in the fall.
To learn how to hold a Bike to School Day event, learn more about the SRTS program, or register for an upcoming regional SRTS training, contact Katie Alexander (email link), Safe Routes to School Director, or visit the Michigan Safe Routes to School website (links to different site in new window).