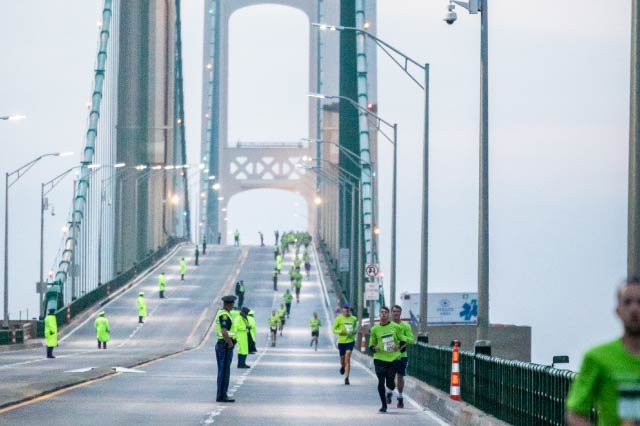 Lansing, Mich – Today is the birthday of the Mackinac Bridge and Michigan Fitness Foundation is celebrating by officially opening the registration for the Labor Day Mackinac Bridge Run.
Holding title as the longest suspension bridge in the western hemisphere, the Mackinac Bridge took three years to build and opened to vehicle traffic on November 1, 1957, linking Michigan's two peninsulas. The total length is 26,372 ft., and the length of the suspension bridge is 8,614 ft., making it the fifth longest suspension bridge in the world.
In his book Miracle Bridge at Mackinac, Mackinac Bridge chief engineer Dr. David B. Steinman wrote "The Mackinac Bridge is a true reflection of this spirit of Michigan, adventurous, unafraid, alive always to the call of new frontiers, ready to build in new ways upon the experience of the past. It has been a rich and rewarding experience to have been associated with the giant citizens of Michigan who dreamed this big dream, rallied their fellow dreamers to make possible its realization, and then saw to it that the bridge arose in all its glory of steel and concrete." With that adventurous spirit in mind, Michigan Fitness Foundation hosted the first fun run on the Mighty Mac in 2004 to offer runners an opportunity to experience the modern marvel firsthand. Preceding the annual Labor Day Bridge Walk, Governor Jennifer Grahnholm kicked off the run at sunrise with the First Gentleman and fitness ambassadors from nearly every county, including notable Michigan runners Bobby Crim and Vance DeCamp.
Today, the Labor Day Mackinac Bridge Run is known as a bucket-list run. There is nothing quite like watching the sun rise over Straits of Mackinac…especially while running across what Dr. Steinman dubbed as "a poem…a symphony of stone and steel." Limited to 700 runners, it is the only opportunity to run the Mighty Mac. The non-competitive run is organized by Michigan Fitness Foundation with support from the Governor's Council on Physical Fitness, Health and Sports, Michigan Department of Transportation, Mackinac Bridge Authority, and event sponsors.
To register, visit: runsignup.com/bridgerun.