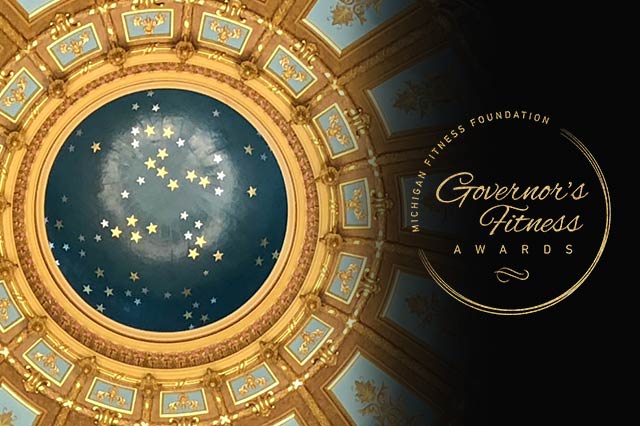 Presented by the Governor's Council on Physical Fitness, Health and Sports and the Michigan Fitness Foundation, the Governor's Fitness Awards (GFA) nomination process is now open. The GFA recognizes communities, organizations, and individuals who inspire people to eat healthily and move more where they live, work, and play.
A panel of judges selects eligible nominees.  On April 23, all finalists will be recognized at a morning Legislative Reception at the State Capitol, and an evening gala in Downtown Detroit. The GFA gala is open to the public, with sponsor opportunities and tickets available shortly.
Past recipients include Jeff and Johnny Agar, Gordie Howe, Dale Hughes, Mike Ilitch, Al Kaline, Sandra Kopach, Lila Lazarus, Carlos Orosco, Martha Reeves, Ty Schmidt, Ethan Whitcomb, Fred Winter, City of Dearborn, City of Huntington Woods, 906 Polar Roll, League of Michigan Bicyclists, Norte Youth Cycling, Slow Roll-Detroit, Battle Creek Community Foundation, W.K. Kellogg Foundation, Henry Ford Health System, Edgewater Bank, Michigan State University Federal Credit Union, and University of Michigan.
GFA Nominations are open through noon, January 15, 2020 at michiganfitness.org/events/governors-fitness-awards.