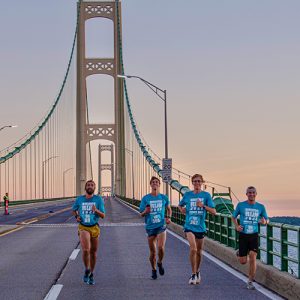 LANSING, MI — Michigan Fitness Foundation (MFF) is pleased to announce Michigan Beef Industry Commission as the presenting sponsor for the 2023 Labor Day Mackinac Bridge Run. The Labor Day Bridge Run takes place Monday, September 4 and is the only running event to take place on the iconic Mackinac Bridge.
"The Michigan Beef Industry Commission is a valued partner, and we are grateful to have them as a presenting sponsor of the Labor Day Mackinac Bridge Run." Said MFF President & CEO Amy Ghannam.
Agriculture is one of the top three industries in Michigan. The cattle industry plays a major role in providing consumers with both beef and dairy products.
"On behalf of Michigan's beef farmers and ranchers that manage over 12,000 beef and dairy farms in our state, we are pleased to sponsor the Labor Day Mackinac Bridge Run," said Michigan Beef Industry Commission Executive Director George Quackenbush. "This event is a great fit for us. Whether you are an athlete or just like to be active, beef is nutrient-dense and provides a high level of health benefits that helps fuel our bodies."
According to the latest Dietary Guidelines for Americans recommendations, nutritional needs should be met primary from nutrient-dense foods and beverages because they provide vitamins, minerals, and other health promoting components needed for a healthy dietary pattern. "Beef's nutrients, along with a healthy lifestyle, work to provide our bodies and minds with the fuel to be the strongest versions of ourselves," said Michigan Beef Industry Commission Director of Nutrition and Consumer Communications, Katie Serbinski, M.S., RDN
As a signature event to promote health and physical activity, the Labor Day Mackinac Bridge Run was founded by Governor Jennifer Granholm in 2004 to highlight physical fitness statewide. Today, the tradition continues as the sun rises prior to the Annual Labor Day Bridge Walk. The Labor Day Mackinac Bridge Run is considered a bucket list run for people committed to health and wellness. Participants travel from across Michigan, the nation, and international destinations to traverse 4.3 miles across Michigan's largest architectural masterpiece in this noncompetitive event. To register, visit https://runsignup.com/bridgerun.