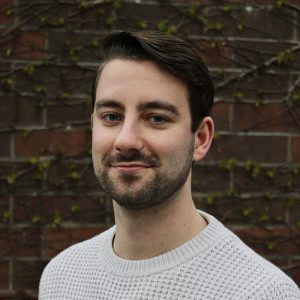 LANSING, MI — Michigan Fitness Foundation (MFF) Evaluation Program Manager Jacob "Jay" Cutler has been selected as a 2023 Bloomberg Fellow.
The Bloomberg American Health Initiative at Johns Hopkins Bloomberg School of Public Health 2023 cohort of Bloomberg Fellows are drawn from organizations working on one of five health challenges facing the nation: addiction and overdose, adolescent health, environmental challenges, food systems for health, and violence. Cutler's focus area is food systems for health.
"I am honored to have been selected as a Bloomberg Fellow. In my work, I measure the impact of programs that seek to improve food environments, local food systems, and healthy eating," said Cutler. "I have a deep passion to foster a more equitable food system and ensure people who are experiencing food insecurity due to inequitable food access, structural racism, financial barriers, or other forms of oppression are centered in these solutions."
To become a Bloomberg Fellow, candidates must apply with support from the organization for which they work. Successful candidates to the Bloomberg Fellows Program must also apply and be accepted to the school's Master of Public Health program. Fellows can choose to pursue the Master of Public Health degree full-time or part-time, in person or online. After graduation, fellows take their skills back to their organizations and work for at least one year.
The Bloomberg Fellows Program represents an innovative way to train the next generation of public health leaders, as it requires not only a commitment to public health practice from the students, but also a commitment of collaboration from the organizations for which they already work. Through this fellowship, the fellows and their organizations join an innovative national network of scholars, educators, and practitioners working to address public health challenges.
"We are proud that Jay has been selected for the highly competitive Bloomberg Fellows Program, especially because the program is designed for professionals that are working in organizations that are already making an impact in public health. Since 1994, the Foundation has been dedicated to improving the health of Michigan citizens," said MFF President and CEO Amy Ghannam. "The Bloomberg American Health Initiative aligns well with our work as we both share the goal of increasing opportunities for individuals to choose healthy foods and be physically active and it is a great fit for Jay and his career goals."
In his work on the MFF evaluation team, Cutler designs and implements evaluation plans and conduct analyses for a variety of projects and programs with a focus on policy, systems, and environmental change work as well as community food systems initiatives. The majority of his work, along with that of the broader evaluation team, falls under the evaluation of Supplemental Nutrition Assistance Program Education (SNAP-Ed) programs at the state and community levels. SNAP-Ed at Michigan Fitness Foundation is a collaborative of statewide partners that work to develop community leaders, increase access to affordable nutritious food and opportunities for physical activity, and deliver evidence-based nutrition education and physical activity programs that empower individuals to eat healthy and move more.
"This fellowship offers Jay the opportunity to exchange ideas, research, and practices with peers at a national level, strengthening his skills in identifying and implementing evidence-based solutions that improve nutrition security, access to healthy food, and access to safe places to be physically active throughout Michigan and beyond," said MFF Vice President of Programs Marci Scott, Ph.D., R.D.N. "As a Bloomberg Fellow, Jay will apply what he learns from his peers and from the rigorous curriculum to improve evaluation practices and expand organizational capacity."
MFF is one of the nation's largest SNAP-Ed Implementing Agencies dispersing over $9 million in SNAP-Ed funding to local organizations throughout Michigan. The MFF evaluation team leads the statewide evaluation of both direct education and PSE initiatives for healthy eating and physical activity promotion. In addition to his SNAP-Ed evaluation work, Cutler serves as the evaluation lead for MFF's Michigan Farm to Family: CSA Program, an innovative program funded by a Gus Schumacher Nutrition Incentive Program grant that makes fresh fruits and vegetables accessible to Michigan families on tight budgets, while supporting local farmers.
"At the Foundation, we work collaboratively to identify best practices and evaluate food and nutrition programming in Michigan in an effective and community-centered manner," said Cutler. "As a Bloomberg Fellow, I look forward to expanding my skills and knowledge and more deeply exploring the intersection of public health and food systems to become a more effective evaluator and advance our impact across the state of Michigan."