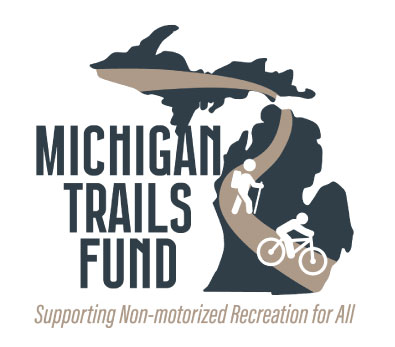 The Michigan Trails Fund (formerly known as the Iron Belle Trail Fund) announced today the awarding of 7 grants totaling over $1.3 million in private funds for regional, non-motorized recreation trail projects located throughout Michigan. These private funds will leverage matching dollars of over $15.5 million in mainly public funding.
"We are very excited to be able to provide private funding for these great projects," said Michigan Trails Fund Executive Director Steve DeBrabander. "Recreation trail use has increased significantly in the last couple of years and this public/private partnership is responding to the need for funding to connect existing trails and provide new trails. Having free, safe outdoor recreation opportunities has been very important to our citizens mental and physical health during these difficult times."
Projects included in this funding round are located in the following counties: Midland (2), Iosco, Grand Traverse, Genesee, Emmet, and Benzie and will be used primarily for regional, non-motorized trail development.
The Michigan Trails Fund is a nonprofit 501(c)(3) organization formed to raise private funds that can be used to match public dollars to complete regional, non-motorized recreation trail projects throughout Michigan. For more information or to contribute to the Michigan Trails Fund please go to www.michigantrailsfund.org.
For questions or additional information, you may also contact Steve DeBrabander, MTF Executive Director, at Steve.Michigantrailsfund@gmail.com.