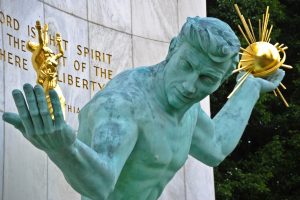 The City of Detroit moved the transportation world from four hooves to four wheels during the 20th century and now the Motor City has another focus in the 21st – vibrant and accessible public spaces that promote physical activity. Creating accessible open spaces like greenways, parks and trails is good for public health. From an easy stroll to a serious workout, greenways provide a necessary public space. Studies show children who begin biking or walking to school at an early age are more likely to stay at a healthy weight during their school years and carry on being active into adulthood, which further indicates the importance of initiatives to provide public spaces to be active in all communities. According to the Physical Activity Guidelines for Americans, children who are physically active tend to have better concentration, memory, grades, attendance, and classroom behaviors.
Another benefit of Greenways is that they are good for the environment. They often have trees, plants, and flowers, and include water features such as rivers, streams, ponds, and lakes. The natural features around trails attract and encourage wildlife in urban, suburban, and rural settings. Greenways can also be designed to improve water quality as well as fish habitat and manage stormwater runoff.
Founded in 2007, the Detroit Greenways Coalition (DGC) has been working to create, conserve and promote greenways and green spaces across Detroit. Their focus is to connect and build a network of greenways, blue ways, complete streets, and bike lanes that will make it easier to get around the city. Through this work, DGC seeks to beautify neighborhoods and improve the quality of life by connecting Detroiters to nature, places, and one another.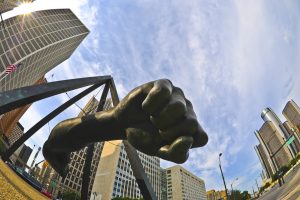 Currently, one of the biggest greenspace initiatives happening in Detroit is the ambitious Joe Louis Greenway, named after the legendary Detroit boxer, spanning an impressive 27.5-miles. Joe Louis was a fierce advocate for social justice and naming the project after him is a tribute to his legacy. The greenway is a transformational project that will connect 23 Detroit neighborhoods. The project includes the cities of Dearborn, Hamtramck, and Highland Park, linking them to larger trail systems that crisscross the entire state as well as to an international pedestrian and bike crossing to Windsor, Ontario. The greenway will connect to both Iron Belle hiking and biking trails. It includes the Dequindre Cut and Southwest Greenway, portions of the Detroit RiverWalk, along with connectors on Livernois and Hamilton.
The Joe Louis Greenway will improve safety for pedestrians and bicyclists. Southeast Michigan Council of Governments Crash and Road Data reported there were 814 crashes involving bicyclists and 1,308 crashes involving pedestrians in 2018 (pre-pandemic).
"Greenways are important for public safety," shares Michigan Fitness Foundation President & CEO, Amy Ghannam. "The Joe Louis Greenway plans provide designated lanes to increase safety and confidence for cyclists. For example, stretches along Cass, Michigan, and Livernois Avenues are already in place and use protective barriers such as curbs, parking lanes, and bollards (vertical posts) to ensure cyclists will have safe spaces to travel."
The trail was first conceptualized by the Friends of the Inner Circle Greenway, then DGC began extensive work to drive momentum while contributing to the overall vision. Today, the City of Detroit is leading the development, working closely with adjacent communities.
In 2017, the Ralph C. Wilson Jr. Foundation (RWF) awarded a grant to the City of Detroit to develop a framework plan. One of the goals of the RWF is to connect people and communities to each other, nature, and recreation, through investments in parks, trails, and green design and by creating partnerships with a variety of stakeholders, such as Michigan Department of Transportation (MDOT), Michigan Department of Natural Resources (MDNR) and others in addition to the City of Detroit.
For the City of Detroit, it was important that the Joe Louis Greenway Framework Plan reflect the vision of Detroit residents, so residents could see their efforts and contributions manifest into something real. The community engagement for the Framework Plan was comprised of 14 Joe Louis Greenway public meetings and staff attendance of an additional 44 public meetings and events, from March 2019 to April 2020. At these meetings, residents identified priorities, the alignment, future connections, and design standards. The community set the project goals, outlining the pathway should: enhance residents' quality of life and promote community development; promote equity; and be a unifying, connective, multi-modal transportation network.
The cost for the Joe Louis Greenway is approximately $200 million. Funding comes from a variety of sources including but not limited to the City of Detroit, Michigan Natural Resources Trust Fund (MNRTF), RWF, MDOT's Transportation Alternatives Program (TAP), and the federal American Rescue Plan Act.
MNRTF uses oil, gas, and mineral lease and royalty payment proceeds to acquire and develop public recreational lands. In 2013, the City of Detroit was awarded an MDNRTF Acquisition Grant to purchase an abandoned 8-mile section of corridor in Detroit and Highland Park, a critical segment of the greenway. The City of Detroit was recently awarded two MDNRTF Development Grants to build off-street segments in Patton and Romanowski Parks as well and will continue to partner with the MDNR on future off-street segments.
In addition to being an essential transportation partner, MDOT supports the Joe Louis Greenway through TAP grant funding. TAP is a competitive grant program that uses federal transportation funds designated by Congress for non-motorized facilities that enhance the intermodal transportation system and provide safe alternative transportation options. TAP funds were used as match dollars for the MDNTF Acquisition Grant to purchase the former rail corridor mentioned above. In 2019, the City of Hamtramck was awarded a TAP Grant to construct protected bike lanes on Joseph Campau, which will be incorporated into the greenway. The City of Detroit received a conditional commitment for a 2023 TAP Grant to construct a segment on Oakland Boulevard. To connect to a future rail section, the City of Highland Park was awarded a TAP Grant to construct protected bike lanes on Hamilton Avenue. TAP grant funding will continue to be a valued funding source for the Joe Louis Greenway's future on-street segments.
The City of Detroit is constructing an off-street segment on the former rail corridor from Warren Avenue to Joy Road using unlimited tax general obligation (UTGO) bonds, with plans to extend north using federal funding from the American Rescue Plan Act. Below is a before and after image of the section between Joy Road and Tireman Avenue. They anticipate this segment to be accessible in the of Fall of 2022.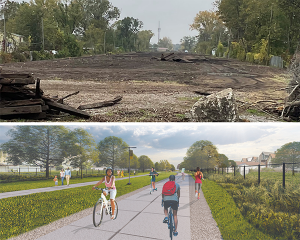 Most recently, the project was awarded a $60 million state appropriation from the bipartisan Build Michigan Together Plan. Funding comes from a portion of the $450 million American Rescue Plan Act funds that have been slated for state and local parks.
Last June, the state announced "every $1 invested in land conservation leads to $4 in economic benefit." This four-fold economic benefit from investments in Michigan's parks systems will also create jobs, sustain small businesses, and uplift communities through tourism and recreation across local communities.
The Joe Louis Greenway also invites citizens to engage with their communities in vibrant spaces where people of all ages and abilities can be active. This will enhance the way Detroiters live, work, and play. By connecting neighborhoods and the people who live in them together, the Joe Louis Greenway is on its way to building a new Detroit that is healthier, greener, more equitable, and accessible for all.