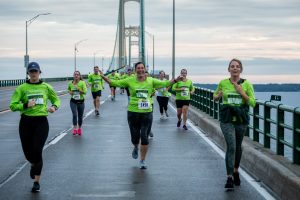 After a year off due to the pandemic, the wait to run the Mighty Mac is finally over. Runners are ready to lace up their shoes, raise their pulse, and run to the finish.
The Labor Day Mackinac Bridge Run is known as a bucket-list run. Holding title as the longest suspension bridge in the western hemisphere, the Mackinac Bridge took three years to build and opened to vehicle traffic on November 1, 1957, linking Michigan's two peninsulas.
In his book Miracle Bridge at Mackinac, Mackinac Bridge chief engineer Dr. David B. Steinman wrote "The Mackinac Bridge is a true reflection of this spirit of Michigan, adventurous, unafraid, alive always to the call of new frontiers, ready to build in new ways upon the experience of the past."
There is nothing quite like watching the sun rise over the Straits of Mackinac, especially while running across what Dr. Steinman dubbed as "a poem…a symphony of stone and steel."
Limited to 700 runners, it is the only opportunity to run the Mighty Mac. Taking place prior to the Annual Bridge Walk, the non-competitive run is organized by Michigan Fitness Foundation with support from the Governor's Council on Physical Fitness, Health and Sports, Michigan Department of Transportation, Mackinac Bridge Authority, and event sponsors.
To register, visit: runsignup.com/bridgerun.