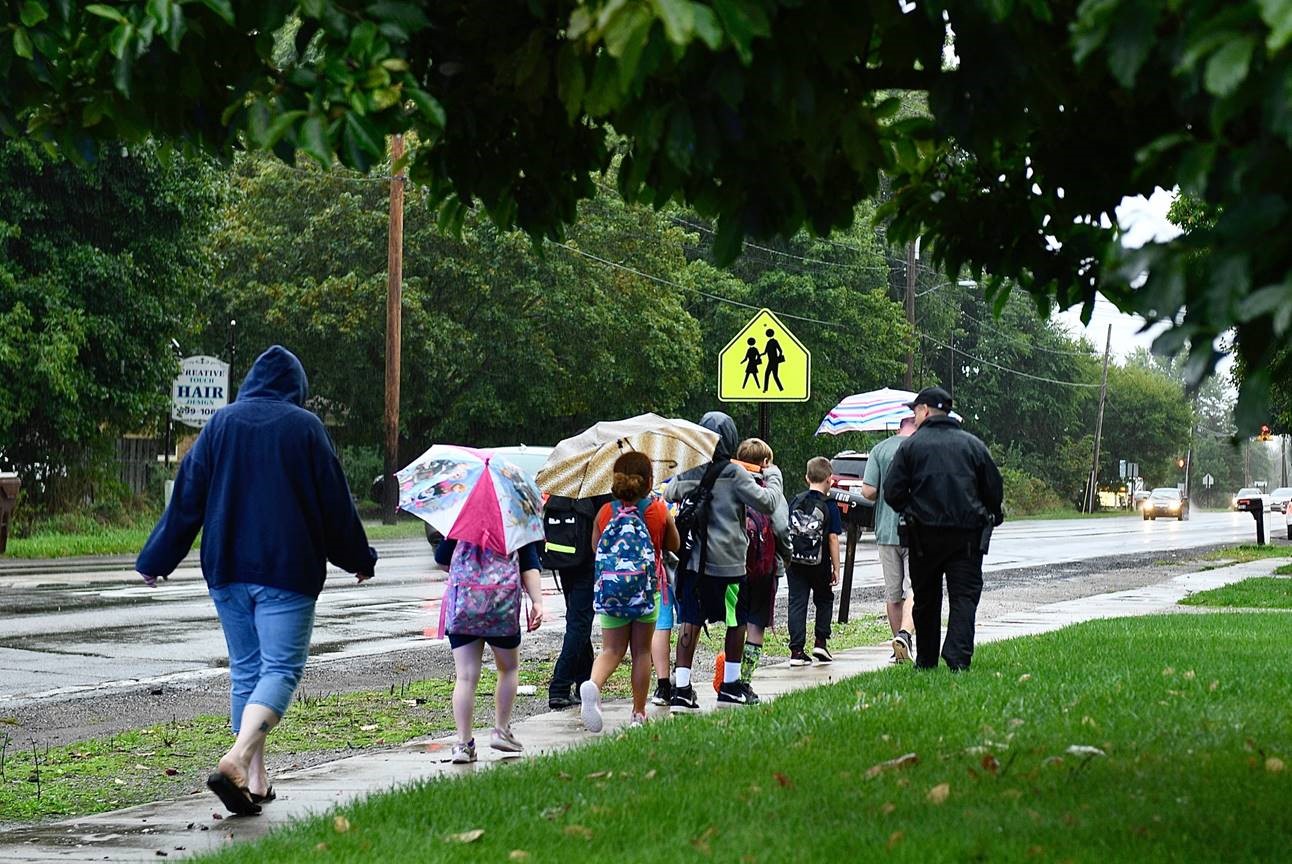 LANSING, MI — Michigan students will be joining schoolchildren from around the world to celebrate International Walk to School Day (W2SD) on Wednesday, October 6. Coordinated by the Michigan Fitness Foundation (MFF) Safe Routes to School (SRTS) program staff, over 300 schools across the state sign up to participate annually. This year, they have also added "The World's Largest Exercise Class" known as All Children Exercise Simultaneously (ACES Day) to the event with generous support from Farm Bureau Insurance of Michigan.
Organized by the Partnership for a Walkable America in 1997, Walk to School Day (W2SD) is a global event that encourages walkable communities. Founded in 1989, ACES Day is an international event created by the Youth Fitness Coalition to raise awareness about heart disease in children due to obesity.
"Bringing Walk to School Day and ACES Day together is a natural fit as we continue our mission to create safer and more physically active communities across Michigan," said Michigan Fitness Foundation President and CEO Amy Ghannam. "Both events emphasize the importance of increasing fitness in children, while strengthening community connections between families and schools."
The Michigan Department of Transportation (MDOT) is an implementing agency for federally funded SRTS grant program through the U.S. Department of Transportation. SRTS is designed to promotes walking and bicycling to school through infrastructure improvements, engagement, tools, safety education, and incentives that encourage walking and bicycling to school.
"We look forward to Walk to School Day every year," said MDOT Office of Economic Development Administrator Mike Kapp. "This community engagement event encourages healthy habits in children and promotes active transportation."
Families, schools, and community organizations are invited to register for the blended event and participate in a way that best fits their needs and aligns with local public health guidance. Over the years, registrants have created events such as a family walk to school, bike rodeo, yoga in the park, trail run, slow roll, or a walking parade.
To register, visit https://saferoutesmichigan.org/walk-to-school-day. All registrants will receive planning resources.
Contact:
Katie Alexander
Director of Safe Routes to School
517-908-3830
###
About Michigan Fitness Foundation
The mission of Michigan Fitness Foundation and the Governor's Council on Physical Fitness, Health and Sports is to inspire active lifestyles and healthy food choices through education, environmental change, community events and policy leadership. For more information, visit michiganfitness.org.
About Safe Routes to School (SRTS)
Safe Routes to School is an international movement that makes it safe, convenient, and fun for students to walk, roll, and bike to school. For more information, visit saferoutesmichigan.org.