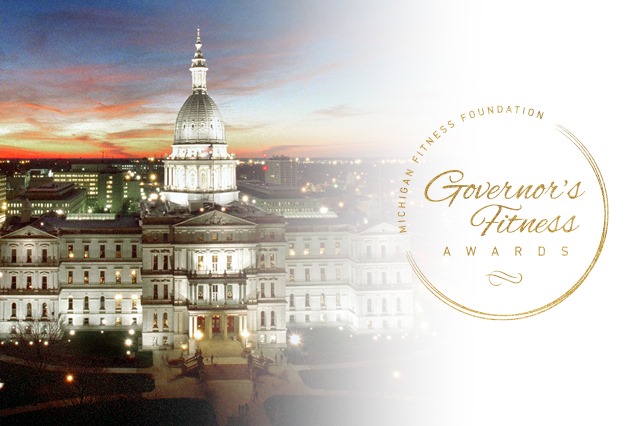 Presented by the Governor's Council on Physical Fitness, Health and Sports and the Michigan Fitness Foundation, the Governor's Fitness Awards (GFA) recognize communities, organizations, and individuals who inspire people to eat healthy and move more. Nominations from Michiganders began last fall, and earlier this year GFA finalists were selected by a panel of judges from across the state.
The finalists are:
Charles T. Kuntzleman Accepting the Challenge Award
Caleb Conklin, Newaygo
Lottie Ferguson, Mount Morris
Jason Parks, Holland
Active Community Award
City of Kalamazoo
City of Mackinac Island
City of Traverse City
Director's Champion of Health Award
Regina Hardy, Detroit
JoAnn McCollum, Ypsilanti
Bob Wilson, Okemos
Extraordinary Organization Award
Operation Fit, Battle Creek
Project Healthy Schools – University of Michigan, Ann Arbor
TeamGUTS, Ferndale
Heath Star Award
Amy DiStefano, Ira
Tameka Kelly, Redford
Matt Laura, Jackson
Healthy Workplace Award
Large Workplace
Blue Cross Blue Shield of Michigan, Detroit
Lacks Enterprises, Inc, Kentwood
Spectrum Health Lakeland, St. Joseph
Medium Workplace
Bell's Brewery, Galesburg
Chem-Trend, Howell
Lansing Board of Water and Light, Lansing
Small Workplace
44North, Cadillac
Sturgis Fire and Police Departments, Sturgis
Upper Peninsula Health Plan (UPHP), Marquette
Outstanding Event Award
Greater Flint Olympian and CANUSA Games, Flint
Livonia Parkrun, Livonia
Meijer State Games of Michigan, Grand Rapids
Perennial Award
Brian and Dorie Barkey, Flint
Elizabeth Burt, Ann Arbor
Fred Price, Livonia
Vern Seefeldt Lifetime Achievement Award
Dr. Wisdom was appointed the nation's First State-level Surgeon General in 2003. In 2012, she was appointed by President Obama to serve on the Advisory Group on Prevention, Health Promotion and Integrative and Public Health. Since 1987 she has been on the faculty of University of Michigan (UM) Medical School's Department of Medical Education and adjunct professor in the UM School of Public Health. Today, she is the Senior Vice President of Community Health & Equity, Chief Wellness & Diversity Officer for Henry Ford Health System where she focuses on health disparities/health care equity, infant mortality/maternal and child health, chronic disease, unintended pregnancy, physical inactivity, unhealthy eating habits, and tobacco use.
"Each year, we look forward to introducing the GFA finalists to our fellow Michiganders," shares Amy Ghannam, President and CEO of Michigan Fitness Foundation. "By recognizing and sharing their extraordinary stories, they influence us all to have a renewed vigor to make healthier choices."
To learn more about each award, visit the Governor's Fitness Awards page.
Michigan Fitness Foundation supports and builds collaborative partnerships to improve the overall health of Michiganders where they live, learn, work, and play.