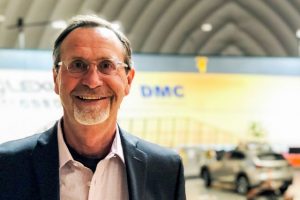 Lansing, Mich — Michigan Fitness Foundation (MFF) and the Governor's Council on Physical Fitness, Health, and Sports (the Council) will honor Dale Hughes with the Vern Seefeldt Lifetime Achievement Award at the annual Governor's Fitness Awards. Named after its first recipient Vern Seefeldt, the first chairman of the Council, this award recognizes those rare individuals who, over a lifetime, have made landmark contributions to the health of Michigan residents.
Hughes grew up in Highland Park and Rochester, Michigan. He discovered competitive cycling after graduating from Oakland University and opening a bike shop. When he closed his shop, Mike Walden, his father in law and Wolverine Sports Club Coach, urged him to build his first (and the country's only) portable velodrome. That was the beginning of his contributions to the sport of cycling that include 20 years as the Director and Coach of the Walden School of Cycling, Race Director and Developer of the Tour de Michigan Bike Race (1986-1997), and more than three decades as one of three to four velodrome designers in the world.  His company V-Worldwide has built more than 20 velodromes around the globe that include venues for the Asian, Commonwealth, and Pan American games; and, most notably, the track for the 1996 Summer Olympics in Atlanta. Here in Michigan, he volunteered his talent to design and build the International Velodrome of Bloomer Park in Rochester Hills, which offers free programming for kids including bike rentals, coaching, and riding instruction. He is also a past director of the governing bodies of cycling in the U.S. and internationally.
Most recently, Hughes designed and built Detroit's Lexus Velodrome. The air dome structure sits on the Tolan Playfield, which was thoughtfully renamed after Detroit Olympian and Cass Tech graduate Eddie "Midnight Express" Tolan to honor his legacy as an athlete, teacher and mentor. "Our goal is to provide kids with opportunities to turn the Olympic dream into a reality," said Hughes. "I've had the honor of working on projects around the world, but I am thrilled to bring this state-of-the-art indoor complex to my backyard in the city of Detroit."
Managed by the Detroit Fitness Foundation, where Hughes serves as executive director, it is the only facility of its kind in North America. It features an indoor multi sports complex that offers space for year-round cycling, running, walking, skating, kickboxing, Pilates, and many other fitness activities for the community. In partnership with the City of Detroit Parks and Recreation Department, Lexus Velodrome offers free programs for youth and seniors, and is open to people of all ages and skill levels for fun and fitness.
Like Seefeldt, Hughes has dedicated his life to serving, volunteering, honoring, partnering, and inspiring others through his work. Hughes will be presented with the Vern Seefeldt Lifetime Achievement Award at the GFA gala at MGM Grand Detroit on Thursday, April 25. The gala is open to all, and tickets are available at michiganfitness.org/gfa.